The Anhalt University of Applied Sciences, in German Hochschule Anhalt (HSA), is the largest of its kind in Saxony-Anhalt. With about 30% of its student population being from 98 countries we can claim to be truly an international academic institution. We have 143 professors, 6993 on-campus students, and 512 research assistants and administrative staff. The applying group around Prof.Bracio consists out of 9 members (2 faculty, 5 Ph.D. students, 2 administrative staff). Besides classic study courses in science, engineering, agriculture, and business, the degree programs at Anhalt University of Applied Sciences also cover creative degrees like architecture and design. Our study program is distributed among seven colleges and three campus sites in Köthen, Bernburg, and Dessau.
With 30% out of the total 8.000 students being international students, we can underline the importance of internationalization in the future development and strategic orientation of our university. Over 90 Erasmus+ Co-operations throughout all departments are currently contributing to bring the Erasmus+ project forward in general and student mobility in particular. By working hand in hand our professors and staff are creating English course programs and promoting mobility to generate enthusiasm and excitement for student mobility. Many study courses have already established "mobility windows" by making them an essential part of the study regulations. Our degree program "International Trade" has even gone one step further. Students must complete a two-semester exchange abroad to complete their studies and receive their degrees.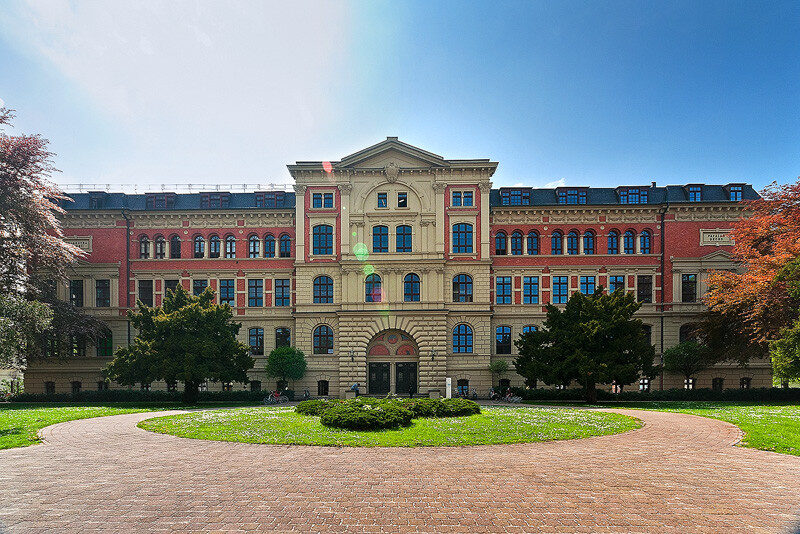 By deepening international co-operations with student and staff mobility, we can see that those are additional benefits for our students and students at our partner universities. Professors and staff are using them to improve their intercultural, lingual, and professional competences and can discuss topics concerning course translations and the process of credit recognition. The applying college of electrical, mechanical, and industrial engineering has itself collaborations e.g. with Ukraine, Russia, Macedonia, Tanzania, Lesotho, South Africa, United States, China, Morocco, and more. With nine English speaking master's degree programs, Anhalt University of Applied Sciences has become even more attractive for potential master degree incomers. English speaking support, project and research work has also been established for Bachelor students. With an improved number of one-on-one seminars, we have yet another option on our curriculum for undergraduate incomers. This does not only help to provide the necessary input for English speaking incomers, but is also added value for German students.
If needed, International students can also attend German-speaking seminars and receive a higher level of individual support there. Thanks to our language center and professors, this approach has resulted in lots of positive feedback and has encouraged us to carry on our efforts in this core area. By avoiding classroom-style teaching methods and creating mixed learning groups we can observe lots of positive side effects and intercultural synergies. Intercultural competences and the confrontation with bureaucratic procedures help to improve the further development and progress of the program participants. And every new mobility opens a new perspective for us. In the end, Erasmus+ is a motor and a pioneering project for Anhalt University of Applied Sciences and the European Union.
The Hochschule Anhalt as a new partner and has not yet been involved in a formal Strategic Partnership, but has extensive international experiences in education and renewable energy (BMBF project with the National University of Lesotho). Through funded projects to integrate refugees, the HSA has gained extensive know-how in the area of programmatic and mental support to prepare students with different educational backgrounds for the European receptively German lab in our market. The extensive experiences of Prof. Bracio in setting up advanced training courses for African students (Lesotho and Tanzania) in the areas applied to renewable energy and biomedical engineering will be a new asset to the team.
The Hochschule Anhalt and especially its College of Electrical, Mechanical, and Industrial Engineering have a long-lasting tradition in renewable energy. The expertise had been focused on photovoltaic with the establishment of the Solar Valley near Bitterfeld-Wolfen. In cooperation with the Fraunhofer-Center for Silizium-Photovoltaics CSP, a special endowed professorship had been established and numerous Ph.D. positions funded. The BMBF funded IEMA-Project: Intelligent Energy Management for Africa – Autonomous and sustainable energy supply for decentralized health facilities in Lesotho had been a cross-educational approach to teach renewable and smart energy technologies from seminars over vocational training up to academic degrees at the National University of Lesotho. Therefore, the Hochschule Anhalt has demonstrated in the past close ties to developing and remote countries, where expertise often is not gained by traditional university knowledge but by learning at work, twinning, job shadowing, and digital learning. It is also well established in designing curricula for advanced studies in the area of renewable energy.
The mission of the University of Oradea is to provide education and research to a high standard of quality in a national and international context of social, professional and, last but not least, intellectual development of the individual, and at the same time to contribute to the social, economic and cultural development of the city of Oradea. These missions are reflected in objectives such as: attracting students from all over the world, positioning the university among the best educational institutions in the country and Europe and transmitting to a community as wide as possible the significance and importance of academic education and scientific research in general and that carried out within this university in particular.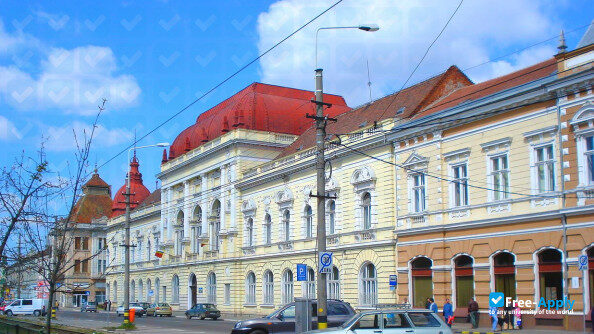 The University of Oradea has concluded international relations with 352 institutions from 39 countries. The academic training and education offered to students takes place in 15 faculties, with 49 departments and 27 institutionally certified research centers. Number of study programs 112 bachelor's degree 83 masters, 12 PhDs. Where, through a wide range of bachelor's, master's, doctoral and postgraduate programs, a complete training package in higher education is offered. In Faculties, educational activity is accompanied and enriched by scientific research. Along with professional performance and moral behavior, scientific research becomes the priority criterion for academic evaluation of higher education staff.
The teaching and research activity at the University of Oradea is carried out in a university framework corresponding to the curricula and the number of students. In continuous expansion and modernization, the heritage ensures high standards for the conduct of the quality educational process, following national and European requirements. University Library of Oradea - with a total area of 7800 sqm has a fund of over 326,000 volumes and online access to specialized databases: Online access to ScienceDirect Journals; Springerlink Journals; Scopus; Thomson Web of Science; Journal Citation Reports; Derwent Innovations Index.
The educational process is supported by a sports base consists of 7 gyms with a total area of 4,502 sqm and 12 sports fields. The University also has an agricultural land for teaching and research activity, having a total area of 14444.67 ha: Pietroasa kinegetic fund, Gurahont Dendrological Park, Carei Agricultural Land, Pomicole Research and Development Station. Students can benefit from high standard accommodation facilities in 4 student dormitories with a capacity of 1392 seats.
Polip Youth Association was founded in 2004 by experienced youth workers. It is a non-governmental youth association. Our goal is to help young people mainly in their everyday-problems, to give information, to organize trainings, sport and leisure time activities, to provide professional support for other organizations in our county. Target group are 10-35-year-old young people, - children with fewer opportunities, - civil organizations within Tolna county. Our basic task is to provide several possibilities for young people to develop their personality. We would like to promote positive intercultural relations between local and foreign young people. The EVS/ESC volunteers help to work out our aims, bringing a different linguistic and cultural dimension to our association. Hosting volunteers give a non-formal learning way not only to the volunteers but the local young people, too. The common work and leisure time activities offer young people a taste of the foreign cultures whilst they widen their horizon, and stimuli to get to know other countries and languages.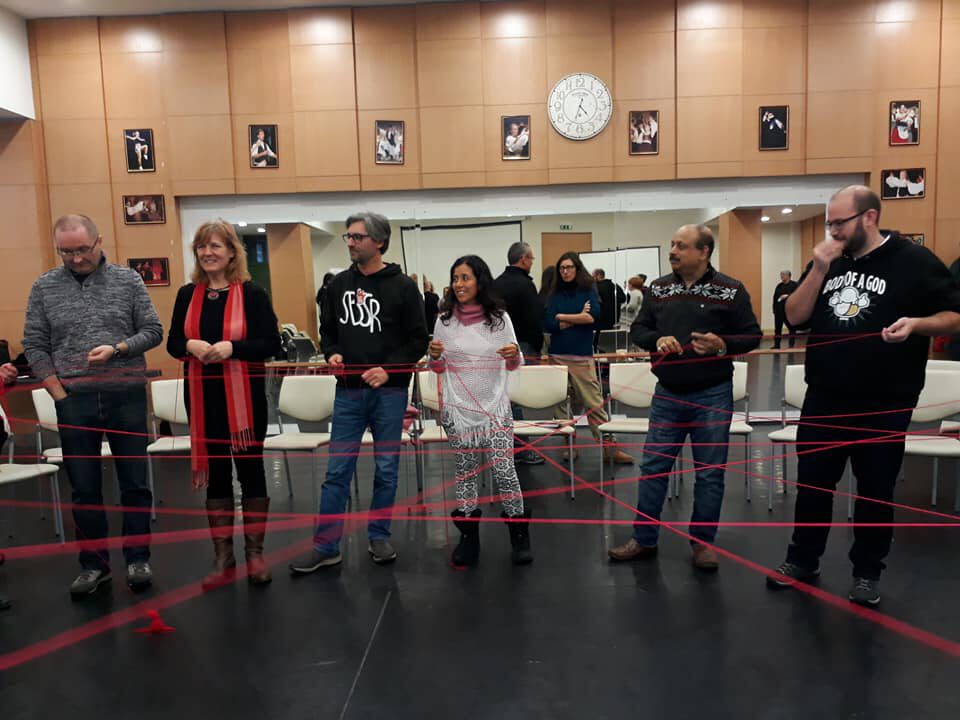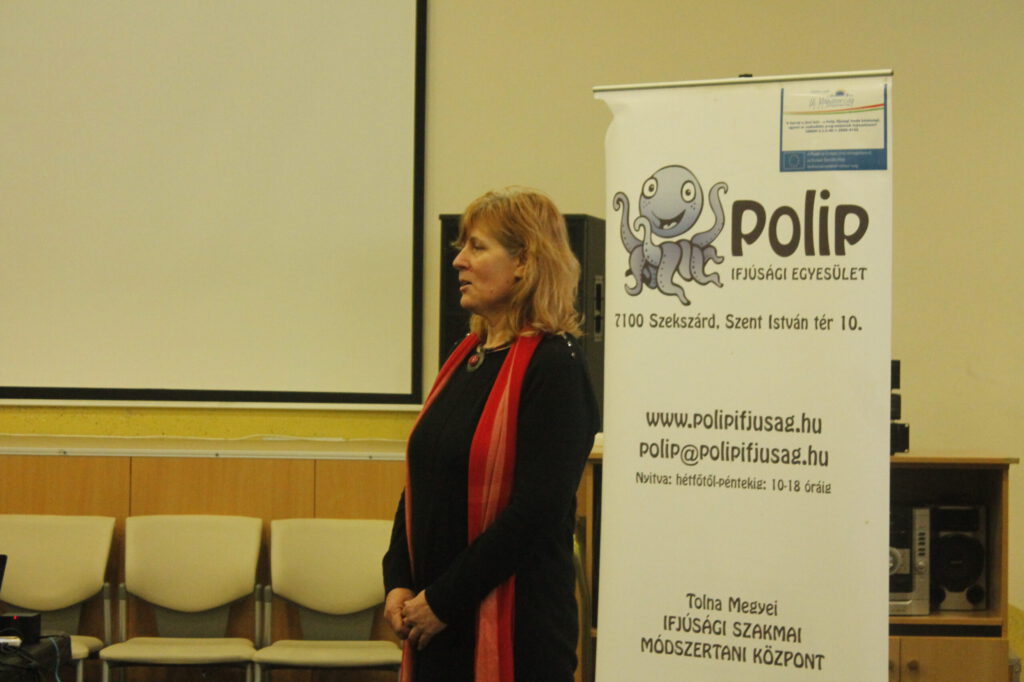 Several programs are included: Environment and nature protection program, voluntary programs (Erasmus EVS, ESC) – the host partners are 4 local kindergartens with the support of the EU we invite volunteers from different countries to take part in our ESC project, animal welfare programs (dog shelter: painting doghouses, taking dogs for a walk, taking care of dogs), common projects on different topics with local, national and international civil associations, vocational internship program for the vulnerable students (target countries are Portugal and Germany) (Erasmus+ VET program).
Clubs: Robotica Club, English Conversation Club with the volunteers, Student Club - supporting children with bad backgrounds – learning with students. Our "student-community place" is open and free for the youngsters and it provides a place for them to spend their free time in a useful way, Theatre pedagogy groups, IT Club - using community PCs and free internet.
Polip Youth Association services include: Information service – giving information (personally-online), counseling – giving advice (student rights, mental hygiene), also activities, clubs, and programs. Different activities are offered: Eurodesk, Youth Council (supporting the local youth council), ICT (training, programs about digital communication, digital addiction –the member of Digital Welfare Program in Hungary network), summer opening party (local festival), student parliament for the student leaders, student camp for vulnerable children, multi-cultural events, sport and leisure time activities also student leader trainings, representation of students, children rights and interests, trainings about how to apply for a tender.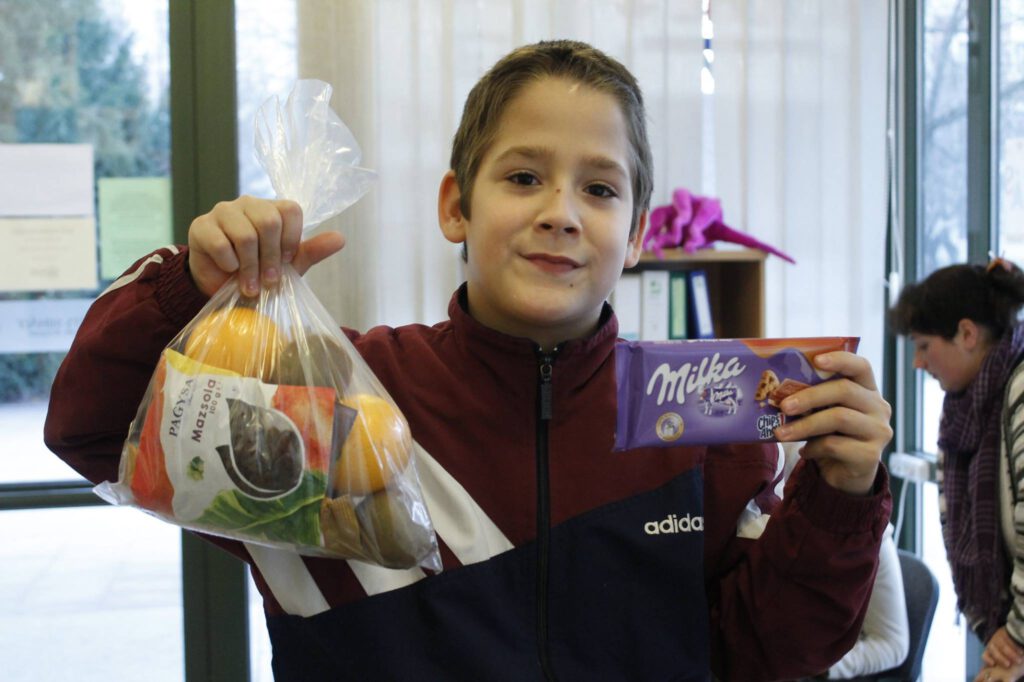 International projects: Volunteering for children (2015-3-HU02-KA105-001310), Internship for disadvantaged youth (2016-1-HU01-KA102-022736), EVS with small children (2016-2-HU02-KA105-001698), Creative works with youth people (2017-1-HU01-KA102-035369), Internship in German and in Portugal (2017-1-HU01-KA102-035630), Creative works with small children (2018-1-HU01-KA102-047534), EUBILD-UNAKLIM (2016-1-DE02-KA204-003254), MOOC4ALL (2019-1-DE02-KA201-006106).
The history of the Mineral and Energy Economy Research Institute, Polish Academy of Sciences (MEERI PAS, Polish Acronym: IGSMIE PAN) dates back to the 1980s. At the present, the Institute is an important research and development institution, contributing to scientific and research progress in the field of mineral and energy management in Poland and abroad ("A" category of scientific units). Its mission of the Institute is to provide modern, economically viable, environmentally friendly, and socially attractive scientific solutions for the sustainable development of Poland and its regions in the field of minerals and energy. The Mission is implemented under the motto: Raw materials and energy for society.
The interdisciplinary nature of the Institute's activities includes in particular such disciplines as: mining, geology, and geoengineering, power engineering including renewable and geothermal energy, environmental engineering, geophysics, and applied geophysics and issues related to economics, law, chemical technology, process engineering, materials engineering and cartography. The scientific profile of the Institute includes the broadly understood issues of mineral and energy management, starting with forecasting, identification, and exploration of mineral deposits, through their development and the acquisition of raw materials, and ending with processing, enrichment, and recovery processes. The Institute specializes in basic studies and applied research in the field of geothermal energy. It is worth emphasizing that our employees pioneered the use of geothermal energy for heating in Poland.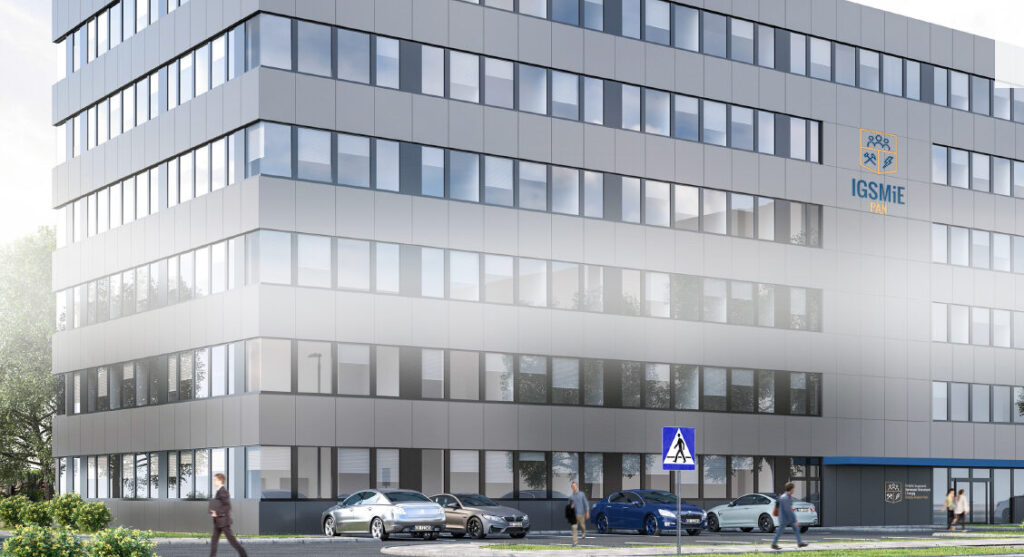 Ubb e.V. was founded in 1994 as a non-profit organization. Its members are natural scientists and engineers. As of 1994 Ubb is active in publicly funded projects in the frame of environmental-, nature- and climate protection. It worked in the field of consulting municipalities and enterprises in environmental issues, air – soil monitoring, waste management consulting in hospitals. To-day, Ubb works on numerous consumer information projects (design and publishing) on ecological labeling in the food, building, green energy, textiles, toys, domestic appliances, sustainable mobility, ecological tourism, packaging, and climate sectors.
Ubb coordinated numerous international projects, conferences, workshops, and fora to environmental and sustainable energy topics in the frame of EFRE, BMBF-DLR (Bundesministerium für Bildung und Forschung, Deutsche Luft- und Raumfahrt), Framework Programme 5-7, IEE-CIP, Grundtvig, ERASMUS+. It is a stakeholder in other EU Projects. As a result of these numerous activities, ubb has designed an international contact database for environmental enterprises, publicly accessible on the internet. Ubb works in the social context of unemployed academics. It uses an external quality management system and is certified as an education body (AZAV). As of 2005, Ubb conducts furthering education courses in the frame of climate, environmental and nature protection, funded by the ESF (European Social Fund). The target groups are unemployed academics, interested in environmental topics. Since Ubb's integration rate is rather high, it is interested to extend this offer, make it international. Ubb cooperates with trainers of the entrepreneurial sector and contributes its own diverse experiences. In 2013, the qualification was conducted with an added international internship, the resonance among the European partners was very good, great interest among them was expressed for further cooperation.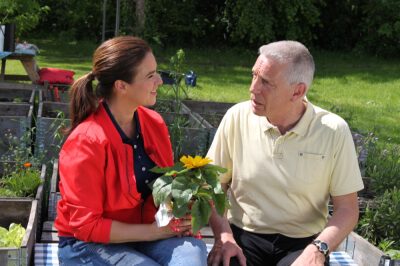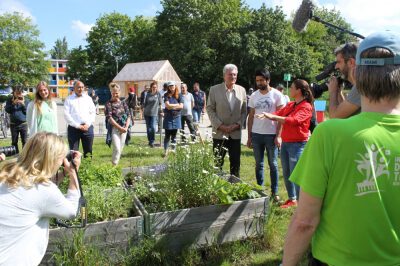 Ubb e.V. is experienced in conception, fundraising, and management of international projects in the frame of environmental issues. It is part of a large network especially with partners from Eastern Europe, i.e. Universities, Higher Education Institutes, academies, enterprises in Poland, Hungary, Bulgaria, Lithuania, Russia, Romania. For more than 15 years, Ubb e.V. has been active as an educational institution in the adult learning field in the environmental field, mainly financed by the ESF and national funds. This results in numerous contacts to social partners and policymakers on furthering education level. Ubb e.V. feels attached to the action program: "Bildung Trifft Entwicklung" ("Education meets development") and respects the principles published in the UN Decade: "Bildung für Nachhaltige Entwicklung" (" Education for Sustainable Development") in its more than 20-year long work with unemployed persons in numerous ecological education projects. Among the participants Ubb e.V. found many great potentials and talents. This potential must be activated. As a logical step, a furthering education scheme was offered to this target group in 2005. First evaluations and the growing demand for skilled personnel in the environmental sector have shown that adult learning in this field is still underrepresented in the furthering education landscape.